If time has slipped away from you this Christmas, don't stress – I've found the perfect solution! Earlier this month I was scrolling through Pinterest and I came across this DIY Gingerbread in a Jar recipe. I thought to myself what a unique and special gift and clicked the link to the recipe.
One of the best things about this recipe is that it's relatively quick and easy to follow. Plus -there aren't any of those rare unpronounceable ingredients like many recipes I discover on Pinterest! 
I've included the directions below, so tie on an apron and hunt out some vintage jars, things are about to get interesting! 🙂
******
Gingerbread Cookies in a Jar
Recipe via AllRecipes.com
Ingredients
2 cups all-purpose flour
1 teaspoon baking powder
1 teaspoon baking soda
1 ½ cups all-purpose flour
1 teaspoon ground cinnamon
1 teaspoon ground allspice
1 cup packed brown sugar
2 teaspoons ground ginger
Instructions
In a medium bowl, mix together 2 cups of flour with the baking soda and baking powder.
In a separate medium bowl, mix together 1 ½ cups of flour with the ginger, cloves, cinnamon, both sugars, and allspice.
Layer the two mixtures (starting with the flour-baking soda + powder mixture) into a medium sized mason jar.
Pack ingredients tightly and seal.
Attach a card with the following instructions (or simply print out the card below):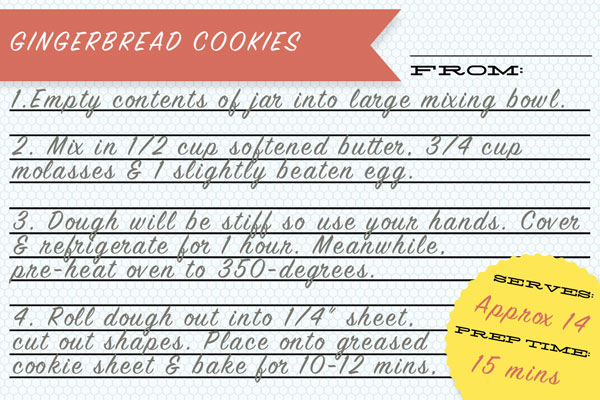 ******
Once you've layered the ingredients into a jar, tie it off with a bow (I used some festive coloured twine – which you can buy at most craft shops) and a tag with cooking instructions and ta-da! A perfect gift for your foodie obsessed girlfriends (count me in), crafty pals, family and KK – what's not to love?  🙂
I love hearing from you all! So if you've tried this recipe, tag me (@daisy_chain_daydreams) if you post a picture on Instagram -I'd love to see it! 🙂
What is your favourite Pinterest recipe?
Your festive season obsessed pal,
Daisy Chain Daydreams xox